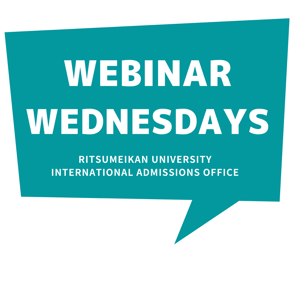 To Be Announced
Sign up and join our community !
*We will update the topic constantly with the next topic and date. Be sure to sign-up and we'll send you the next webinar link.
Webinar Wednesdays!
Hi there! Welcome to our community page!
Fill in the form to join our community. We'll send you reminders and links to register for our next webinar!
We're the International Admissions Officers at Ritsumeikan University.
The Webinar topics will cover things such as living in Kyoto, Shiga, Osaka, and Japan.
Through our webinars, we introduce a part of Ritsumeikan University and the admissions process to you. Our campus, our students, the application process and our programs. Sometimes we cover Japan and also what you can do at Ritsumeikan University and much more.
Each webinar is about 30 minutes. 20-25 minutes of us chatting, sharing our stories and application tips. Followed by 5-10 minutes of us answering questions. Sometimes we'll have guests and students come join the conversation.
Come join us and start the conversation. Best of all? It's free! Sign-up right here.
International Admissions Office
Ritsumeikan University
------------------------------------------------------------------------------------
update section :
- May 11-
Hi Everyone,
It has been a while since we are set-up a New Webinar Wednesdays.
The New Application Handbook for 2022, was announced last week. I think we should do an episode on that, what do you guys think?
Do you have any ideas for us for an episode? Send your comments and remarks to hello@st.ritsumei.ac.jp.
Be sure to sign-up to get our reminders and updates.
Jeremy (current host) & the team.
If you would like to look at previous episodes, you can sign up for the archives here.
(you'll get a link to the archives in email)